Blue Plan (Unlimited)
Choose Device (Device Required For Purchase):
Choose Device (Device Required For Purchase)
Blue Plan (Unlimited)
Price includes First Month of Plan + Device. We currently do not support BYOD for this plan. A subscription of $140 monthly will be established for the remainder of your plan (you can cancel at anytime). Device will automatically be added to your cart along with the plan. 
Our Blue Plan (Coverage Map) comes with unlimited data per month, perfect for RVers, travelers, rural homes, or individuals on the go that need a reliable and fast data connection no matter where their adventures may take them! This plan and device includes coverage in Canada and Mexico, as much as you'd like at no additional charge! Coverage in Canada runs off Rogers network, but you may change the preferred network on your device to Telus or Bell.
Please select either the Nighthawk M6 MR6110 (MR6110 Product Data Sheet) or the latest Nighthawk M6 Pro MR6500 (MR6500 Product Data Sheet) on the right side of the page. Both devices are 5G compatible! Devices tested prior to shipping.
Service is unthrottled, with no speed caps. Service is comparable to current cellular technology. Although service isn't throttled or slowed for any reason, the respective carrier may reprioritize your data in times of congestion. Deprioritization is done by carriers to avoid service degradation for all customers, regardless of location. This generally does not impact your speed or quality of service, but please keep in mind that cellular data speeds are variable.
Customer Reviews
06/13/2022
EZ Mobile Data is great for RVers. You have a choice of either AT&T, T-Mobile and Verizon. I choose unlimited AT&T plan and EZ Mobile Data modem. Connection and speed has been great in the locations I've been to. The best thing about it is you pay for the months you need it for which helps me greatly.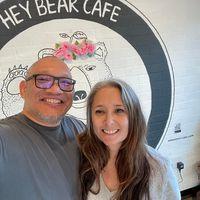 AN
Aaron N.
01/11/2022
I've tried out the Blue Plan, using it in my Pepwave Max Transit, and works flawlessly. Don't have any issues with it. Coming from Nomad and other resellers, EZ Mobile Data company really tries to make the effort to satisfy customers, especially me, who doesn't know much about tech and needs the hand holding for my RV.
01/14/2022
Just received my SIM card in the mail and service is working great! I've been forced to work from home now with so many Covid cases popping up at my work. With no options for high speed internet where we live, finding this service was a blessing.
01/15/2022
Their Blue Plan is a godsend! Even when I'm hiking on the most unknown trails, the service never fails me. Highly recommend EZ Mobile Data if you're a wanderer like myself :)
10/29/2022
I recommend this product
Best deal around!
I am very pleased with this internet service. We had a very lousy connection before this due largely to the fact we live in a very rural setting. The flexibility of this is amazing, Saves tons of money on using data plans on your phone with this mobile hotspot. Perfect for the outdoor adventurers out there.
Jeremy B.

United States